Conflicts in Caperston mimic some challenges throughout the world today. The stratification of haves and have-nots is increasing, particularly in America. The rich get richer and the poor ... ???
The movement in Caperston, led by Zester, to denounce the mountain people as equals led to the violence in their society? What do you think we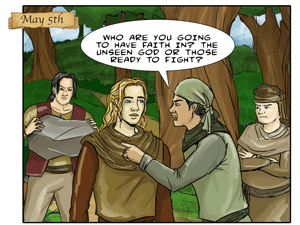 can learn from Caperston's trials and tribulations?
Did not inequality lead to the massacre on the highway?(http://christianteensactivities.org/newstoryApril2014.php)
Did not impatience lead to the martyrdom of Dustin? (http://christianteensactivities.org/NewstoryMay2014.php)
Most recent comment from Alex: Wouldn't it be nice to just forget the past and move on with a future of hope. However, we live in a world too separated by people with big differences of opinions. We can agree to differ but there is too much anger from extreme people on the "left" and the "right".
See below on right to reply.